Somewhere far away, there's a sea that ripples with magic. And if you were a bird flying high over the sea one fine day, you'd be able to look down at the tiny green-and-gold dot that's Monty's Island...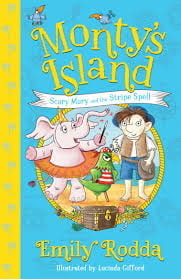 Monty never knows what he might find when he takes his Pick-Up sled along the beach with his friend Tawny, looking for Special Finds. One morning, they receive some worrying news from their friend the Laughing Traveller that Scary Mary and her pirate crew are looking for a new island to call home. The pirates have burnt down the trees on their old base and turned it into a dump. Monty and Tawny certainly don't want Scary Mary, a cruel and greedy pirate with sharp gold teeth taking over their island home! 
What can Monty and his friends do? When Bunchy accidentally turns the whole island stripey with her new magic wand, they have nowhere to hide. Monty will need to come with up one of his best ideas to save them!
Listen to Emily Rodda read the beginning of Scary Mary and the Striped Spell...
Emily Rodda has created some unusual creatures that live on Monty's Island. Argue Birds that begin each day arguing loudly, Jinglebees that sound like a million bells ringing as they prepare to fly and will chew anything in sight and the Hairy Horrible that only hunts at night and doesn't like to get sand between its hairy toes.
At the end of the video, Emily invites you to invent your own creature. Draw your creature first. Is your creature scary or friendly? What makes it unique?
Lucinda Gifford is the talented illustrator whose fun and lively illustrations have brought Emily Rodda's characters and story to life.
Learn about Lucinda's drawing process for illustrating Scary Mary and the Stripe Spell...
Have fun drawing Clink the Shipwrecked Pirate with Lucinda...
There are more drawing videos with Lucinda Gifford and activities to download on the Allen & Unwin website HERE.
If you're looking for a fun new fantasy adventure to read then the Monty's Island series is perfect for you!
Happy reading!