Derek Dool is back looking for a new way to be SUPERCOOL. After accidentally going viral online, Derek is on a mission to deliberately go viral. The challenge is on for Derek to get more more online views than his archenemy Carmichael Cruz and become a SUPERCOOL internet sensation!
To go viral, should Derek do an unboxing video, a pimple popping video or maybe a cute cat video? None of Derek's ideas including Sonny the Surfing Bunny are quite working out as he expected, not even with help from Big Denise and Booger. But Derek's not the type to give up. No way! He is determined to achieve VIRAL VICTORY.
Derek's final plan to go viral at the Ruttsmell Garlic Festival is almost the last thing he ever does! It is a total riot with Derek and Cruz heading down the Ruttsmell River clinging to a runaway jumping castle. Can they put aside their rivalry to save themselves? Scott Edgar's illustrations brilliantly capture the action, danger and hilarity of their predicament.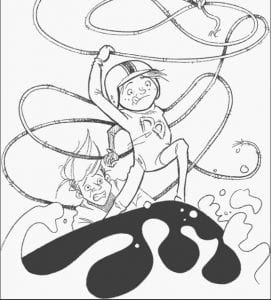 Book Two has even more Bad Dad Jokes to make you groan and we're left still wondering what those devious crows are planning for their world domination. Big Denise's rapping goes more public than she wants and we see Booger's strength come to the fore. There's also lots of stinky garlic!
You can read the first chapter HERE
What would YOU do to go viral and become an internet sensation?
Writing funny books is not as easy as people think. In a recent interview, Adrian Beck explained how he needs to balance the plot, setting and characters while also being funny. Adrian has worked in TV production and has also watched lots of cartoon shows so when he writes his books, it's like writing a TV or cartoon show script with short sharp episodes or chapters. Scott illustrates his favourite parts and then they work as a team to discuss and adjust the text and illustrations so they work seamlessly to tell the story. Adrian and Scott definitely have lots of fun working together creating Derek's funny, action-packed adventures!
Derek Dool Supercool 3: Run For Your Life will be published in January 2021.
Happy reading!