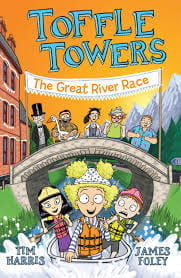 The second book in the Toffle Towers series by Tim Harris will have you laughing out loud once again.
Thanks to ten-year-old Chegwin's creativity, Toffle Towers is filling up fast with guests and even more are expected for the annual Great River Race. All is going smoothly until some of Chegwin's staff are 'reverse mugged' by two mysterious men in black. The hotel is thrown into chaos as Chegwin tries to find a solution and work out who is behind the attacks. 
When Chegwin discovers that Brontessa Braxton (owner of the rival Braxton Hotel) is the mastermind, his attempt to be kind to her backfires. Chegwin finds himself competing in the Great River Race to save both Toffle Towers and its staff from her greedy clutches. Underpants, yes underpants, will help decide the race winner!
Will you find out who is in Room 49? I'm not going to say, but you will get to explore secret tunnels hidden in Toffle Towers. There's also fun to be had at the upside-down check-in, dancing on the musical staircase and your mouth will water as you read about the newly upgraded Room 1 that is now The Lolly Room where everything is edible - yum! 
Once again James Foley's fun illustrations bring the story to life. His illustrations of nasty Brontessa Braxton are some of my favourites, especially her eyebrows!
If you enjoy funny books and taking your imagination for a walk, the Toffle Towers series is for you and great way to start your year. Fully Booked is the first book in the series and you can read more about it here.  
Watch out for Book 3 - Order in the Court that will be coming soon.
Happy reading!