Meet two very best friends.
One is a girl and one is a dog.
And everyone knows them as Evie and Pog.

Evie and Pog are two quirky very best friends who live in a tree-house in a beautiful silver ash tree with pink leaves in Granny's backyard. The tree-house has a reading nook, a hanging chair and a slide with soft daisy-spot grass to land on - I could happily live there too!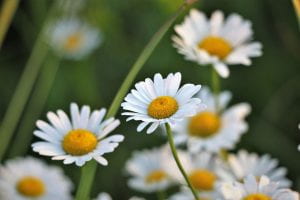 Image by Goran Horvat: Pixabay
Evie and Pog love to have fun and in this book you can join them on three adventures.
Puppy School Mess
Granny Gladys constantly cleans and gets carried away tidying the grass by snipping the heads off Evie's precious daisies! Evie and Pog try to make her stop. Whoops-a-daisy! Granny Gladys ends up wearing a chocolate cake and poor Pog has to go to dreaded Puppy School, where it turns out Evie is better at the Puppy Challenge than the puppies!
School Play Drama
Evie is so excited to be the Butterfly Queen for the school play. Pog is not about happy being a fairy pug. When Granny Gladys tries to tidy Evie's wings, there's chaos as threads get tangled and the stage becomes a big woolly spider web. How can an enormous sneeze and a flying friend save Pog and the play?
Cake Stall Chaos
To raise money for the Puppy School at the annual Fair, Evie decides to have a cupcake stall. In Granny's shiny kitchen they all dance and bake and wipe and sing as they make 100 cupcakes -  kids' cupcakes, doggy cupcakes and spinach cupcakes (for Pog). Whoops-a-daisy! What are the chances of the cupcakes getting mixed up? Anyone for a caramel kidney cupcake??
Look out for Evie and Pog: Puppy Playtime too!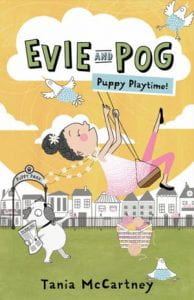 In her first junior fiction series, Tania McCartney has created two delightful characters for you to meet. Evie is a full of energy, often accident-prone and sometimes dog-like. Pog takes life a little more seriously and would rather drink tea and read the newspaper than learn to sit, beg and speak. They have lots of zany fun together and are good at solving problems in creative ways. Tania's gorgeous illustrations are a highlight as they bring Evie and Pog's adventures to life.
Happy reading!