Magnolia Moon is very good at keeping secrets. She knows just what to do with them, and has a way of talking to the jumpy ones to stop them causing trouble. Which is why people are always leaning in and whispering: "Can I tell you a secret?"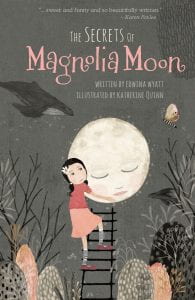 Magnolia Moon is a curious nine year old with springy, beetle-black curls filled with feathers and twigs. Magnolia likes Greek mythology, her cat Atlas and writing her name backwards (NOOM AILONGAM). Her best friend is Imogen May and they like hanging upside down from the Wishing Tree, inventing new animals like peliphants and buffadillos and guessing what type of fruit they would be.

What type of fruit would you choose to be?
During the year there are lots of changes for Magnolia, beginning with Imogen May moving away and ending with the arrival of her baby brother Finnegan. Each chapter holds a secret. They are the type of secrets that help people feel braver, less alone, and more loved. There are new friendships, a secret escape, a secret spook, a secret identity, a secret sky, and a mysterious angel boy. In the final 'Chapter Almost 10', Magnolia reveals a secret of her own. 
In the story, I like the way Magnolia Moon describes time by comparing it to things. 
Three minutes is a lifetime if you are a piece of toast or a soft-poached egg
An hour is a lifetime if you are a cake in the oven or a storm cloud
Three weeks is a lifetime if you are a bar of soap
Six months is a lifetime if you are a bedbug
A year is a lifetime if you are a giant jellyfish
What interesting ways would you describe time?
The Secrets of Magnolia Moon by Edwina Wyatt is perfect if you like gentle stories about friendship and families and enjoy solving problems. It is a 'just the right size' hardcover book with a stunning front cover, gorgeous nature-filled endpapers and whimsical illustrations by Katherine Quinn. I hope there will be more secrets and adventures for Magnolia Moon.
Happy reading!