See what happens when you're looking forward to a trip to the zoo with your dad and discover it's not just human dads who like to tell embarrassing and goofy dad jokes. It's every dad's mission!
Whether they growl or they squeal,
Or they bellow or croak,
No dad can ever resist telling a joke.
Lion, hippo, giraffe and leopard are just some of the zoo animal dads trying hard to make their kids laugh with bad jokes. Crocodile's joke reminded me of my dad. Whenever we said, "I'm, hungry!" dad would always shake our hand and say "Pleased to meet you Hungry, I'm Dad!"
Adrian Beck is one of the funniest people I know, so I'm not surprised his first picture book is a fun rhyming story filled with non-stop dad jokes and a clever twist at the end. It's definitely a book to read aloud!
Simon Greiner's bright, cartoon illustrations add to the humour with eye rolls, raised eyebrows and cringing looks. See if you can find the 'Three Wise Monkeys' who aren't even safe from their dad's jokes at the cafe.
Even though dad jokes can make us groan out loud, Stop the Dad Jokes! reminds us that jokes are our dad's way of making us laugh and showing they care.
If your dad drives you crazy with his jokes, Stop the Dad Jokes! could be the  book you need to help you either 'beat him or join him'! Beat dad at his own game by using the jokes in the book or join him by reading the book together and making up more dad jokes.
Stop the Dad Jokes! would make a great gift for Father's Day.
Here's a fun dad joke I spotted on my travels...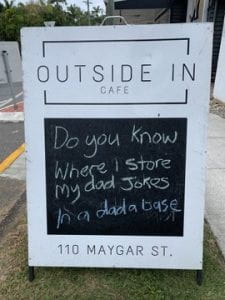 Do you have a favourite Dad joke?
Happy reading!