Total Quack Up! is a collection of short stories from some of Australia's funniest children's authors guaranteed to have you quacking up and laughing out loud! So be careful where you read this book...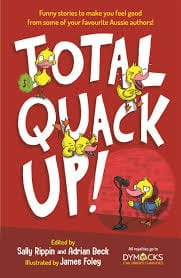 Sally Rippin and Adrian Beck are the editors of Total Quack Up! They wanted to help raise money for Dymocks Children's Charities who work very hard to make sure kids across the country get their hands on great books and develop the skills they need to read them. Sally and Adrian asked eight author friends if they would like to write a funny story and James Foley to be the illustrator. These generous people donated their story and illustrations to create this book and all of the proceeds from Total Quack Up! will go to Dymock's Children's Charities.
Buying a copy of Total Quack Up! is a 'win-win' because you get a funny book to enjoy AND you will be helping other kids to have books so they can enjoy reading too!
Here's a taste of the stories in Total Quack Up!...
After reading Total Quack Up! you might be inspired to write your own funny short story...
Happy reading!